Why should you start using MMS marketing services?
Updated: Mar 7
Why should you start using MMS marketing services?
So far, we've talked about how cost-effective and powerful SMS marketing is. Here's what we've shared with you about SMS marketing so far. Is SMS marketing just about sending a plain text message to customers to deliver your discounts? In a way, yes. But is that all it's capable of? The answer is a resounding no.
In addition to plain text messages, SMS marketing can also include MMS messaging. And just like plain text messages, MMS messages can offer various benefits to your business/community. With a smartly executed strategy, MMS marketing can increase and deepen the engagement, satisfaction, and loyalty of your customers/members.
If you want to learn more about SMS vs. MMS, you can read this blog post: Can you spot 7 differences between SMS and MMS?
This article will help you understand how to utilize MMS messaging by covering the following topics:
● What is MMS messaging?
● What is MMS marketing?
● Four different MMS marketing examples
● Which MMS marketing service is the best and why?


What is MMS messaging?
MMS stands for multimedia messaging service. MMS messaging helps to express your communication with attention-grabbing components like images, video clips, GIFs, or audio.


What is MMS marketing?
MMS marketing creates opportunities for you as a business owner to benefit from the usage of multimedia in the message when;
● Promoting your small business/community
● Delivering your offers, discounts, and campaigns
● Increasing retention rate
● Enhancing customer/member relationships
● Improving brand/community awareness more easily and effectively
Visual elements are powerful. According to the last research, 40% of individuals react more favorably to visual input than to simple text. Multimedia (images, GIFs, or videos) can also be sent via email or shared on social media. But these marketing channels do not make it easy for you to gauge your audience's reaction.
On the other hand, MMS marketing is much more effective than the other marketing tools because MMS messages:
● are sent directly to the customer's mobile devices
● have a 98% open rate
● are opened within 3 minutes of receipt
It's clear that when utilizing visual elements, MMS messaging is the best marketing tool for catching the audience's attention and sticking in their minds. So, if you want to reach your audience more effectively, you should start using MMS marketing services today.


Four different MMS marketing examples
Here, we have prepared four MMS marketing message examples for you. Let's delve deeper into the details.
1. MMS marketing example:

Happy Halloween MMS message
Halloween is just around the corner! 🧟‍♂ As a small business owner, you can create an emotional bond with your customers by sending Happy Halloween MMS messages to them. These Halloween MMS messages can include just images. Or, you can step forward and enrich your MMS marketing message with GIFs (Graphic Interchange Format; a visual format that supports animation).
This same approach can be applied toshow your gratitude to customers on Thanksgiving via SMS and/or MMS messaging.




2. MMS marketing example:

Halloween deals MMS message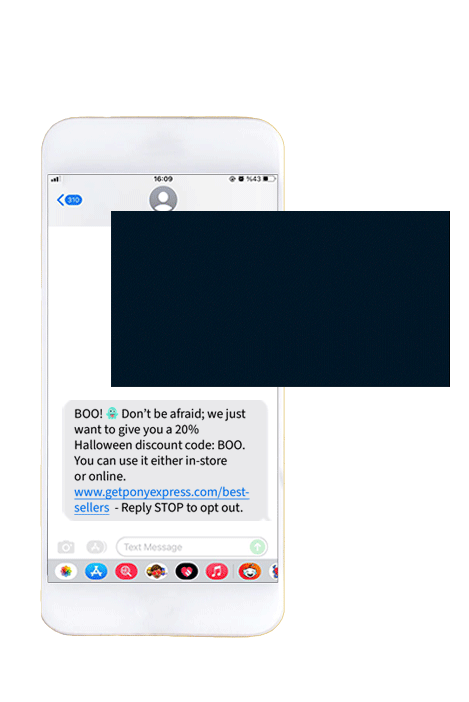 In addition to generating an emotional connection with customers, Halloween MMS marketing can help you increase your Halloween sales. Using Halloween MMS messages, you can instantly deliver yourHalloween marketing campaigns to customers. Also, the effect can be greater if you combine your Halloween MMS with audience-pleasing humorous Halloween language.


3. MMS marketing example:

Black Friday deals MMS message
Right after Halloween, Black Friday will be upon us soon. You can boost your sales by delivering your Black Friday deals via SMS marketing. Either plain text messages or enriched MMS marketing messages can work perfectly for your Black Friday deals. However, as we mentioned above, visuals have 40% more power than plain messages. And as you can see from the left, MMS marketing messages have a way distinctive way of calling your customers' attention.
Consider using MMS marketing messages for your most important Black Friday deals and use plain SMS messages for more regular campaigns to use your message credits more efficiently.
4. MMS marketing example:

Motivational MMS message for gyms
One interesting aim of MMS messages is to motivate people to use your service/products consistently. As an example, gyms and fitness centers can send motivational quotes to their members to increase their loyalty.
Again, a plain text message is more than enough to encourage people. But, as you can see, images have the power to catch your eye and focus. Integrate MMS marketing services, and motivate your customers, employees, or team members.
Which MMS marketing service is the best and why?
There are many MMS marketing services, but the question will be which one suits your small business/community better. The answer is Pony Express HQ! Why? Because Pony Express HQ has the most affordable pricing among similar MMS marketing services.
You spend only 1 credit for 1 plain text message and 2 credits for one MMS message. Here are more details about our prices: SMS marketing pricing
Bonus Info 1: And you can start with 100 bonus credits just for signing up to Pony Express HQ. To sign up: SMS marketing service
Bonus Info 2: You can use our free MMS templates and ready message templates when you sign up for our MMS marketing service.
Bonus Info 3: You can also use a free tool Canva to prepare your own GIFs or images for MMS marketing.
In this blog post, we explained the meanings of MMS and MMS marketing, and we shared four different MMS marketing examples. We hope this information helps you to understand the logic and benefits of MMS marketing messages and grow your business! 🚀
The Pony Express HQ Team 🤍